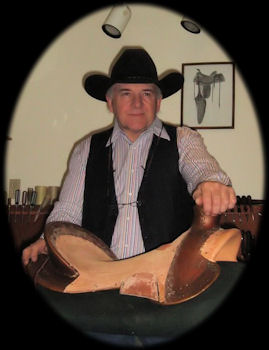 In 1967, during his rodeo career, Deryk had the opportunity to meet Ray Holes of Grangeville, Idaho. Ray gave Deryk a personal tour of his saddle and tree shop...this visit was very influential in Deryk's desire to become a saddlemaker.
Two years later, in 1969, Deryk started his apprenticeship under Chuck Stormes in Calgary. He worked there until 1976 when he decided to open his own shop.
In early 1980, with the help of Chuck Stormes, he started building his own saddle trees. Deryk then spent time with Severe Bros. of Pendleton, Oregon, where he learned how to rawhide saddle trees from Dan Luft…Dan rawhided trees for Hamley's for several years.
In 2004, Deryk's saddle and tree shop was destroyed by fire. His new saddle shop has now been back in operation for some time and the tree shop should be up and running by summer 2009.
Deryk builds a variety of saddles. From smooth or rough-out to the multi-flowered, fully hand-carved, high-end saddle. These designs are mostly influenced by the early California or Visalia style of carving. All saddles are made on your tree of choice; built for fit and comfort for both horse and rider.
Deryk's influences in saddlemaking came from Ray Holes, Dale Harwood, Duff and Bill Severe and of course his mentor, Chuck Stormes.